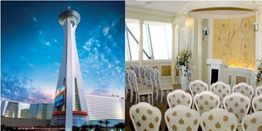 "Chapel in the Clouds" at The Strat2000 Las Vegas Blvd South Las Vegas, NV 89104 (702) 382-0091
Imagine the most romantic day of your life. Now imagine that experience 1,149 feet above the city that never sleeps, in the only location in Vegas that offers magnificent views from all our venues. Lace or lavender? Gardenias or roses? An intimate affair or a lavish wedding?
At Chapel in the Clouds at The Strat Casino, Hotel & Tower, the choices for Las Vegas weddings are endless. Select from spectacular options and amenities, including two classic chapels for the ceremony and elegant reception venues. Take your wedding to a whole new level with our indoor and outdoor Observation Deck weddings on Levels 108 and 109, private balcony weddings with a view on Level 112, and even thrill ride weddings.
Our affordable Las Vegas wedding packages give you complete flexibility. Whether your perfect day means romantic sophistication or an untraditional twist, we'll elevate your wedding day expectations at Chapel in the Clouds. Contact our professional wedding planners for assistance with any detail from flowers and music to photography.
Our staff makes it easy to arrange your entertaining needs from a dinner at Top of the World Restaurant, show tickets, intimate dinner for 10 to an elaborate reception for a few hundred, don't forget your Bachelor and Bachelorette Parties – we offer it all!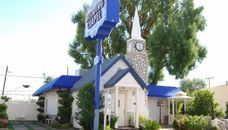 "Graceland Wedding Chapel" Located 5 miles from the Strip. Near Downtown.
619 S Las Vegas Blvd Las Vegas, NV 89101 (702) 382-0091
This traditional looking Chapel has been doing business on the Las Vegas Strip for over fifty years. During that time it has seen its share of celebrities such as Jon Bon Jovi, who was married there, Jay Leno, Johnny Depp, Matthew Perry and Salma Hayek. You can choose either a traditional wedding or the Elvis Presley Package which features an Elvis impersonator singing at your ceremony.
The chapel is located on the famous Las Vegas Strip about a mile from the Stratosphere Hotel and not far from Fremont Street. Graceland Wedding Chapel offers most of the typical Las Vegas wedding services. These include limo, photography, internet broadcast of the service, DVD, flowers and even a cake.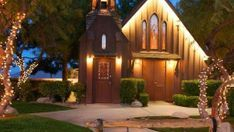 "Little Church of the West"Located 3 miles south of the Strip
4617 S Las Vegas Blvd Las Vegas, NV 89119 (702) 739-7971
This wedding chapel is an exact replica of a church found in an old west mining town. The chapel itself is historically significant. It is the only building on the Las Vegas Strip listed by the National Historical Society. Over the years this little church has been the site of many celebrities exchanging marriage vows. Cindy Crawford, Richard Gere, Angelina Jolie, Mickey Rooney and Judy Garland to name but a few.
The staff is helpful in planning and answering questions. They offer most of the typical packages found in Las Vegas wedding chapels. Prices start at a low-end and go up from there.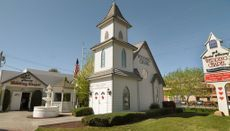 "A Special Memory Wedding Chapel" 800 S 4th St Las Vegas, NV 89101 (702) 384-2211
This wedding chapel has the look and feel of an authentic New England church. In fact it will seat 115 people on its oak pews. It has separate bride and groom dressing rooms. The bride has the choice of entering the wedding service from either double doors or walking down a theatrical like spiral staircase.
The chapel offers a wide selection of indoor weddings ranging from an Elvis type to an inexpensive no frills option. This is the chapel that offers the world famous drive-through wedding service. For those who are looking to have a more unusual wedding, the chapel offers a number of very beautiful out door locations.
One such location is the Valley of Fire, a romantic spot where you are surrounded by the Red Rock Mountains. Red Rock Canyon and Mountain Air are also areas of great beauty where weddings can be held. If you are so inclined, you can be married in a helicopter flying over Las Vegas at night or even use it to land on the floor of the Grand Canyon for your wedding.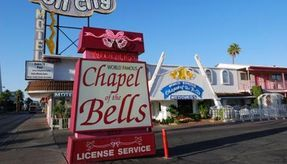 "Chapel of the Bells" 2233 S Las Vegas Blvd Las Vegas, NV 89104 (702) 735-6803
Here is a wedding chapel that Hollywood producers and directors have seen fit to feature in their films. Granted these were not academy award winning movies (Honeymoon in Vegas, Mars Attack, Indecent Proposal and Vegas Vacation) but it does show the esthetic appeal of the chapel.
There has also been a string of celebrities married there from Kelly Ripa to Bobby Unser. The chapel is located on the famous Las Vegas Strip. Arriving guests pass through a lush garden on their way into the chapel. The chapel is well maintained. It is friendly to all religions and the service is by a non-denominational minister.
They offer wedding packages ranging from low to moderate. Interestingly, the chapel has a low priced package that includes transportation from your hotel to the Marriage License Bureau and then to the Chapel. They use what the call an executive car rather than a limousine.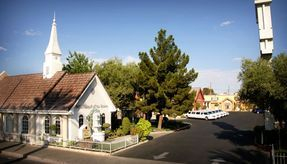 "Chapel of the Flowers"1717 S Las Vegas Blvd Las Vegas, NV 89104 (702) 735-4331
This chapel has won the best of the year award by a review website. It was not just a single factor that made them stand out but an overall "this is a good place to have a wedding" feeling about the facility. They do offer a unique Skype service so family and friends unable to be there can virtually attend the wedding. Skype, for those who are not acquainted with it, is a service that allows a person at home to see and hear on their computer screen what is being photographed at the chapel.

The people watching at home with skype also have the ability to speak to the wedding party. On the chapel grounds are four different locations to have your wedding. The first and most traditional is the Victorian Chapel. It has velvet drapes, crystal chandeliers, marble floors and mahogany pews. Second in popularity is the La Capella Chapel. It has a Tuscan type decor. Stone archways, intricate wrought iron wall sconces and chandeliers all contribute the architecture and beauty of the room.

The outdoor gazebo offers another choice as a wedding location. It is surrounded by trees and lush gardens. For nighttime weddings the gazebo takes on a storybook look with luminous white lighting. For those who want a modern chic wedding there is the Magnolia Chapel. Although modern it has a touch of elegance with its marble floors, metal chandeliers and glass tiles. Many different priced packages are available.

They start at a moderate price but include limousine service.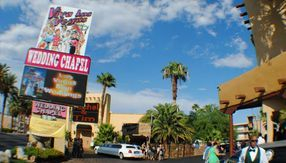 "Viva Las Vegas Wedding Chapel"1205 S Las Vegas Blvd Las Vegas, NV 89104 (702) 384-0771
If getting married in a romantic looking adobe mission, complete with Spanish tiled floors and a bell tower is your desire, this could easily be your choice. It is the largest chapel on the Las Vegas Strip and seats up to 140 people. You have the option of selecting either a traditional wedding package or a themed wedding. With the traditional selection you may wish to use their picturesque fountain or a beautiful white wrought iron gazebo. The chapel is of course available.
When it comes to a themed wedding it is amazing as to what is offered. Available themes are: Elvis-Blue Hawaii, Camelot, Intergalactic, Fairy Tale, Western, Gothic, Disco, Rock 'N Roll. Harley, James Bond, Egyptian and Rock 'A Billy. Some of the themes involve costumes as well as decor. The chapel has state of the art sound, music and fog capabilities. They can also turn into a night-club following the ceremonies.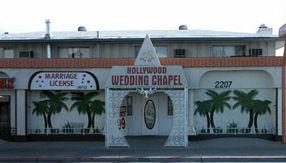 "A Hollywood Wedding Chapel"2207 S Las Vegas Blvd Las Vegas, NV 89104 (702) 643-0022
Here is probably the least expensive, most reasonably priced wedding chapel you are going to find in Las Vegas and it has a very interesting history. The chapel was originally built back in 1954 as a night club for the mob. Celebrities such as Frank Sinatra, Dean Martin, Sammy Davis Jr., Marilyn Monroe, Louis Armstrong, Count Basie and Nat King Cole could often be seen there.
Many Hollywood stars and performers in Las Vegas shows would stop by just to be noticed and hang out with the mob. Finally in the year 2000 this club was converted into a wedding chapel. Some say, "The ghost of its glorious past can still be felt there."
The chapel offers numerous wedding packages ranging from the least expensive one in all of Las Vegas to more moderately priced package which has an Elvis impersonator walk the bride down the aisle and then sing 3 songs at the wedding. There is a tux and bridal gown rental service at the chapel should you have the need.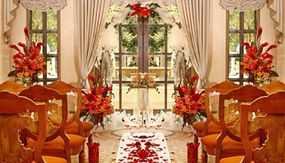 "The Venetian Wedding Chapel" 3355 S Las Vegas Blvd Las Vegas, NV 89109 (702) 414-1000
Almost all the major hotels in Las Vegas have wedding facilities. They are not designed for the quick in and out type of wedding. Instead, the hotel offers an elegant beauty and support that only they can provide.
The Venetian Hotel which is itself a stunning structure of old world streets, canals, bridges and buildings has three magnificent chapels as well as various romantic type locations in which a wedding can be held. The chapels reflect the beauty of ancient Venice. Their dark wood and muted colors speak an old world elegance not often found. Because it is a hotel and not just a small wedding chapel they have provisions for wedding rehearsal dinners as well as bachelor and bachelorette parties.

The hotel of course has the ability to provide blocks of rooms for the wedding party. The beautiful bridge found at the Venetian's St Mark Square is another site that can be used for a wedding. The hotel has a special white gondola that is used only for marriages. Imagine being serenaded while taking your vows aboard the gondola.
Other locations include the breath taking Polazzo Water Falls in the atrium. There are courtyards and terraces that after the ceremonies can be converted into a reception area. There are numerous packages with costs varying on how grand you wish to make the wedding. The planning staff is helpful.
"Bellagio Las Vegas Wedding Chapels"3600 S Las Vegas Blvd Las Vegas, NV 89109 (702) 693-7111
Taking your marriage vows at the Bellagio is as close to having a fairy tale wedding as you can get. Imagine one thousand fountains spraying dancing waters in time to music, a nine acre Mediterranean garden, a Gallery of Fine Art and three magnificent wedding locations to choose from.
The first location is the South Wedding Chapel which will accommodate up to 130 guests. The second is the East Wedding Chapel which is smaller and will hold only 30 guests. Both of these chapels have an old world elegant ambience. They have stained glass windows traced with gold leaf, rich woods, and hand blown chandeliers. Muted colors of cream, peach, antique green and brides blue are used along with lavish draperies.
A third location for a wedding is outdoors, on a terrace known as Terrazza Di Sogno. It is a combination of steps, balcony and terrace. It offers a romantic view overlooking both a lake and Tuscan landscape. A reception can be held there after the wedding. It is a most beautiful location and must be seen to be appreciated.
There are ten different wedding packages offered by the Bellagio. Each has its own distinctive wedding plan. They range from standard to elegant opulence. Included in the ten are a vow renewal service and a most unusual package known as The Proposal Terrazzo Di Sogno. It is designed to propose a future marriage to a loved one in a very romantic manner.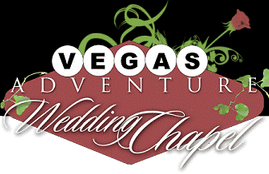 "Vegas Adventure Wedding Chapel"
702-270-2522

When it comes to your Las Vegas Wedding,
"We take all the stress out and put all the adventure in!"